Monday, April 8th, 2013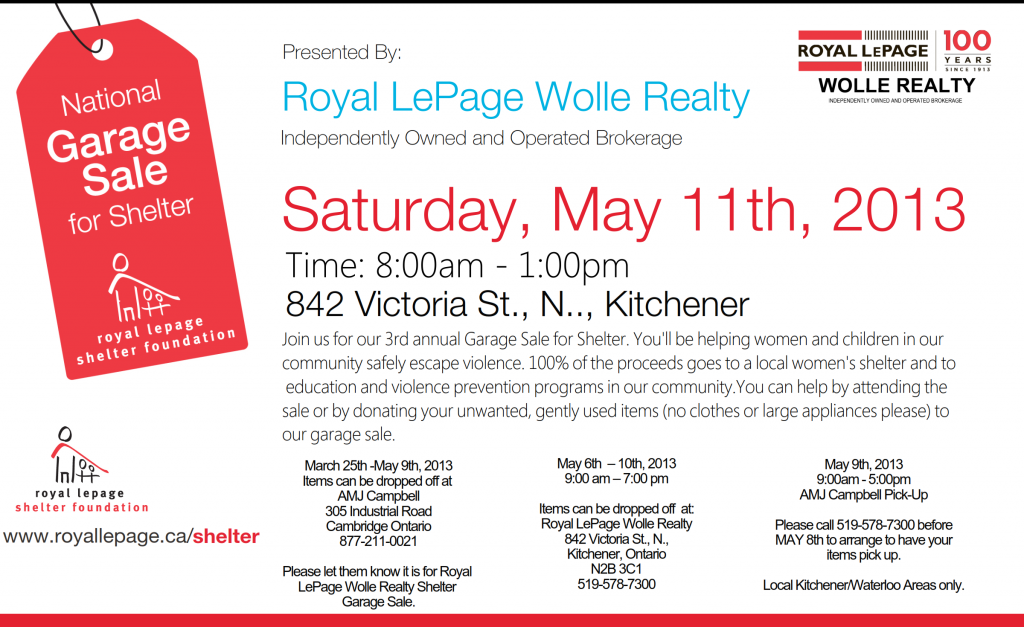 The Royal LePage Shelter Foundation's one-day charity garage sale to raise money for women's shelters and violence prevention programs will take place on Saturday, May 11, 2013 at Royal LePage offices across the country. Since 2009, Royal LePage Shelter Foundation has raised close to $1.2 million at the National Garage Sale for Shelter to help stop the cycle of violence and provide a safe haven and new beginnings for women and children.
We need your help and the help of our community to reach our goal! You will be helping women and children in our community safely escape violence. 100% of the proceeds goes to a local women's shelter and to education and violence prevention programs in our community.
How can you help?
DONATE! We are looking for gently used (& new)  items to sell at our Garage Sale (no clothes or large appliances please).
-March 25th-May 9th – Items can be dropped off at AMJ Campbell, 305 Industrial Rd., Cambridge, 877-211-0021, during regular business hours. Please let them know it's for Royal LePage Wolle Realty Garage Sale.
-May 6th-10th – Items can be dropped off at Royal LePage Wolle Realty, 842 Victoria St., N., Kitchener, between 9:00am-7:00pm.
-May 9th – AMJ Campbell special pick-up day. Please call 519-578-7300 before MAY 8th to arrange to have your items picked up this day. This is for the local Kitchener/Waterloo Area only
SHARE! Please help spread the word.
-Print up our poster & share it in your condo building, public venue or business.
-Like  Royal Lepage Wolle Realty Garage Sale for Shelter on Facebook
-Invite people and share the Facebook Event
-Tell a neighbour or family member about the event
SHOP! Be sure to join us Saturday May 11, 2013.
You will find us in Royal LePage Wolle Realty PARKING LOT located at 842 Victoria Street North, Kitchener (the corner of Victoria & River Road). We would love to see you there!
If you have any questions or need help please contact us at 519-578-7300